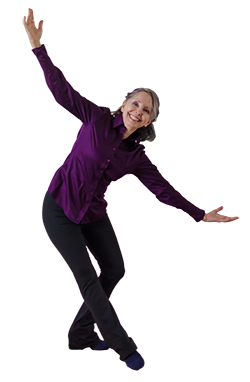 When I was young, I knew that my dad wanted me to be an artist, just like his grandmother, whom he adored. I loved art, but first I loved to dance. At sixteen I started a dance school and spent the next 14 years teaching dance.
Later, with three kids in tow, at the age of twenty-eight, I went off to college and graduated with a masters degree in choreography from UCLA.
After graduation, instead of returning to the dance world, I decided to learn more about business. I worked at a variety of jobs mostly chosen so I could find out more about myself and how the world works.
Sometimes I took a job to make enough money to support myself and my three children.
Eventually, I ended up working for 20 years within large financial firms as a Certified Financial Planner.
Although I enjoyed the work, I became more and more driven by my desire to do the next thing I wanted to do in life — write, and in the process, shift lives.
So I did.
Whether it is in a non-fiction or fiction book, I write with the intention of shifting our perceptions of possibilities.
Besides books, since 1999, every two weeks, I have written perception shifting Ezines. I also have two free email series dedicated to perception shifting, The Daily Nudge, and The Truth 4 Today which perhaps fulfills my dad's dream of me being an artist. In this series, I combine words and art.
I write stories. I shift stories.
I hope the stories I write help shift the stories that people choose to live. I am also a coach, on what else, how to shift. To add to the mix, I have a podcast called Shift The Story.
As a child, I tried to tell everyone about the power of perception shifting. I learned that telling people things doesn't work, but perhaps showing alternatives does. That is what I hope to achieve in life, whether it is writing, coaching, or living my life.
I learned life the hard way. Sometimes things worked, sometimes they didn't, but everything taught me. I have been married, divorced, married and divorced, until I finally got marriage right. I am a mother, grandmother, and step-mother.
When not working, I am reading, or perhaps working in the garden in Northeast Ohio with my husband, Delbert Piper Sr.
BOOKS
All my books can be found on Amazon, or directly from me at speaking gigs.